Your Government is to blame for the incoming Rates Rise
I saw last night Auckland Tories get upset over the incoming Rates rises via the Long Term Plan. This is owing to the Interim Transport Package Targeted Rate being introduced to kick-start needed and wanted (according to Long Term Plan submissions) transport projects especially public transport projects.
The estimated average Rates Rise seems to be about 9%.
Well my friends it seems your own making when Government dragging the chain on actual infrastructure investment. So my message is simply this:
Don't go whinging about the incoming Auckland Rates Rises when Central Government is dragging the chain on sharing the load with Infrastructure investment.
Victoria Labor Government is sharing the load with Melbourne as noted here https://voakl.net/…/victoria-labor-government-shows-how-it-…/ and even producing Budget Surpluses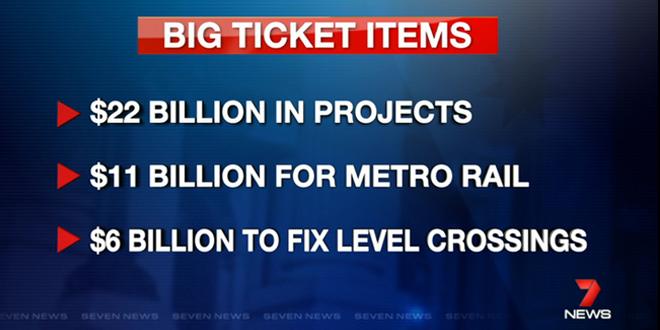 New South Wales Liberals are embarking on a similar path via their Sydney Plan alongside the Sydney Councils although Westconnex is causing problems at the moment.
Those two States with their Cities will simply leave Auckland and NZ behind again.
Orakei Ward Councillor Cameron Brewer called for Minister of Finance Bill English to fund the 50% this Budget on the CRL in the Long Term Plan hand down last week and English still drags the chain.
Meanwhile and again the highlights of the Victorian Labor Government Budget
$11b in Metro Rail with $1.5b allocated this year to start planning and preliminary works (main projects due to start 2018 like our CRL)
$6b in Level Crossing Fixes
$22b in major projects
$1.2b surplus
East West Link ditched
https://au.news.yahoo.com/vic/a/27625813/vic-budget-a-6bn-down-payment-on-roads/
And this is an economy that is meant to be not well.
But yet I see nothing from our Government for:
The Third Main,
Nothing for grade separation of our level crossings – some being death traps (Walters Road, Taka Street and Morningside Drive,
Nothing for Pukekohe electrification,
Nothing for the bus ways nor the North Shore Line,
Nothing for the ECMT from Hamilton to Port of Tauranga to take the ever increasing load of freight trains,
Nothing for the North Auckland Line to North Port Whangarei that might just help the Port of Auckland wharves issue.
It is rather easy with Auckland growing at the speed like Melbourne, Government funds 1/3 of ALL infrastructure at the minimum: roads, rail, pipes, libraries, parks and so on while Roads of National Siginficance gets chucked as its equivalent did in Victoria and is on the cards in New South Wales and Queensland.
Yes our Government can step up through better spending from current resources and be more visionary as our Aussie neighbours are.
Simple stuff really.
And yes:
Going to say it
I support the Auckland Council Interim Transport Package and Levy to get our transport going! I know what it will cost me to via my Rates Bill
Thank The Government For Dragging the Chain on Infrastructure