One to watch and one to research
I saw this from The NBR this morning as The Warehouse adapts to both the Downtown Auckland redevelopment as well as trialling something done overseas.
From The NBR:
Warehouse opens dedicated online pick-up store
The Warehouse [NZX:WHS] has today opened a Red Shed store in central Auckland specifically for collecting purchases made through the warehouse.co.nz.
The "click and collect" Customs St store is a pop up store and is only 30sq m and holds no inventory.
Customers shopping online can select it as their pickup location. Alternatively, customers can shop at the store using the "endless aisles" service, where they can use kiosks to order products.
The listed company says the store is a test to learn what works best for customers, before considering opening similar stores at other sites.
Chief digital officer Craig Jordan says home delivery is available for all online purchases but this didn't suit everybody.
"If you're at home in the evening but work in the city, you can shop after work, knowing you can pick up from Customs St the next day during a break from work.
"Click and collect is proving very popular among our customers, as they enjoy the convenience of being able to pop into a store or pick-up point, grab their order and keep moving."
…………….
Full article: http://www.nbr.co.nz/article/warehouse-opens-dedicated-online-pick-store-cg-179093
A look at the Click and Collect outlet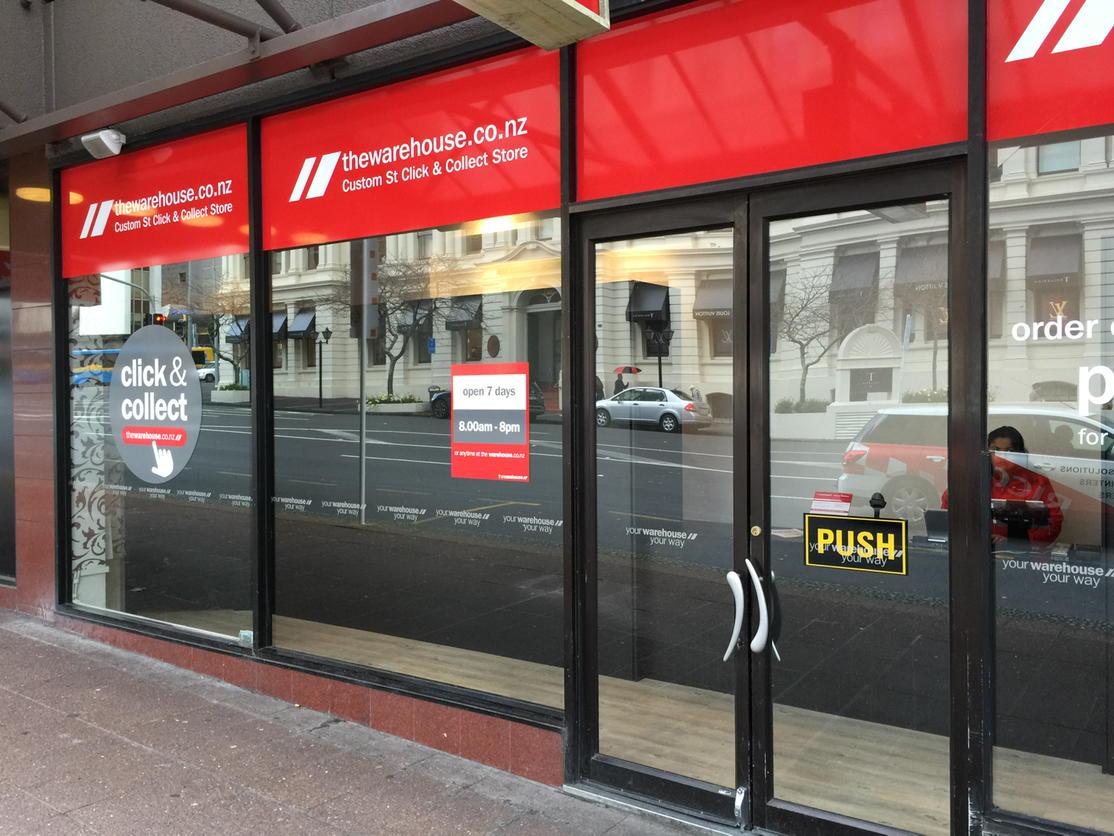 Auckland Transport recently sent a survey out about establishing so-called Click and Collect outlets at our major rail stations like Britomart in which I was favourable of.
It seems that if Auckland Transport and The Warehouse (especially if they coordinate for a trial) can pull this Click and Collect outlet shop typology off we could see this as a positive disruptive influence to urban planning.
How so?
Three questions get asked:
Role of the brick and mortar traditional store
Role of the large shopping mall like Scentre's Manukau Mall – the largest at 199 retailers
Consequences on traffic movements (private, public and freight)
Could the role of the brick and mortar store decline with the rise of Click and Collect outlets? Well they said it would in terms with online shopping and in some regards that has been true. So we have to ask what disruptive effects the Click and Collect outlets might have on the Town Centres and Metropolitan Centres. Could Click and Collect diminish the need for these stores especially larger retail format stores like The Warehouse and Farmers thus have wider effects on Centres' employment or the need for land within that Centre?
Could Click and Collect be disruptive to shopping malls? We have heard the stories about the decline of the mall which Auckland continues to defy to the point of expanding existing ones and building new ones in the north of the City. But as I see it Click and Collect, and the Mall would adapt to each other very quickly especially as malls in Auckland are often used as hang out spaces.
How about this with Click and Collect, and the mall:
Shop
Drop goods off at collect point or have retailer do it every hour
Shop some more
Repeat number 2
Wet lunch (or even a dry one)
Movies
Walk around
Collect goods from collect point
Go Home
Now that collect point could be within the mall itself or even a public transport station like Britomart, Sylvia Park and Manukau.
The main point being that I might further flesh out is that this Click and Collect idea has the potential to be disruptive to planning and commercial regimes currently in play. However, I see it as a good disruptive that those who are savvy enough will adapt to very fast.
As for traffic? Will cover that tomorrow morning.