Yes
Traditionally big suburban malls have faced inwards from their urban environment with big blank walls and seas of car parking surround the complex. This lead to the mall completely isolated from the surrounding urban environment and for a while now prone to changing tastes of consumers.
The day's of driving or being driven to the mall for the weekend shop, a meal at the food court and maybe your hard-earned pocket-money gone down at the arcade parlour have long gone. With online retail eating away at traditional bricks-and-mortar stores, and digital-savy consumers looking for more sophisticated experiences the question was 'can the mall survive?'
The answer is yes it can, with a bit of adaptation and evolution (of the mall).
From The Guardian:
All under one roof: how malls and cities are becoming indistinguishable
Suburban malls may be a dying breed, but in cities from New York to Hong Kong, new malls are thriving by seamlessly blending into the urban fabric
"We didn't expect to see stores," says Yulia, as her husband browses for shoes in one of the shops lining the Oculus, the new focus of New York's World Trade Center.
Visiting from Ukraine and on their way to the 9/11 memorial, they were beckoned by the Oculus's unusual architecture: from the outside, the Santiago Calatrava-designed ribbed structure reminds you of a bird or a dinosaur skeleton; inside, it is teaming with tourists taking pictures with selfie sticks.
But the Oculus, named after the eyelike opening at the apex that lets in light, is more than a piece of striking architecture. It exists as a mall, with more than a hundred stores, and as a hub connecting office buildings in Brookfield Place and One World Trade Center with 11 subway lines and Path trains, serving 50,000 commuters every day. That's a lot of eyeballs on shopfronts.
The mall company Westfield, of course, hopes that the tourists and transit users will stray to the stores. "The New New York Place to Be", reads the mall's tagline. "Shop. Eat. Drink. Play. All under one magnificent roof."
Oculus was Westfield's $1.4bn bet that New York, a city known for its love of the street, could also have a successful mall. And judging from the crowds, it counters the narrative that the mall is "dead", like those thousands of empty suburban malls dotting the American landscape, "ghostboxes" decaying on cracked asphalt parking lots.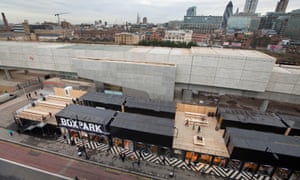 Michael Sorkin, professor of architecture at City College of New York, points out that Westfield is an example of a kind of global urbanism. "The Westfield mall is virtually indistinguishable from Dubai duty-free," he says, pointing out that the same generic multinational shops are now to be found not just in malls, but on the streets of cities. "The effect is compromising and imperial – a real estate formula."
Certainly, the Westfield World Trade Center seems to demonstrate that it is not the mall that is declining, but suburbia. The mall, meanwhile, is becoming urban.
In fact, a new breed of shopping centre is integrating so seamlessly into its urban surroundings that it can be difficult to draw any line between city and mall whatsoever. London's Boxpark, Las Vegas's Downtown Container Park and Miami's Brickell City Centre are examples of mall-like environments that try to weave into the street life of a city.
Across the Pacific Ocean from the Oculus, developers in China are experimenting even more radically, with new mall configurations catering to the rapid rise of domestic consumerism and quickly evolving tastes.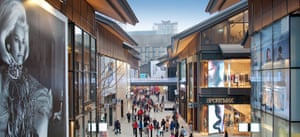 In the early 2000s, when enclosed malls were the standard, architect Chris Law of the Oval Partnership proposed an "open city" concept for San Li Tun, an area in Beijing's central business district. He proposed to inject the "big box" with a heavy dose of public space. He says people had a common reaction to his plan: "You guys are crazy."
Instead of laying out asphalt parking lots, Law wanted sidewalks and trees that would cool and shade pedestrian outdoor space. He designed the shops and restaurants around two distinct plazas – one brimming with an interactive water feature and a massive screen to televise events, the other for "quietly reading a book over a cappuccino".
………As innovative as his projects may be, "we simply continued the urban pattern that has been around for hundreds of years", Law says. He mentions medieval cities such as Sienna, or those depicted on the Qingming scroll, where shops and food stalls lined thriving public space.
It raises the question: was the enclosed, suburban mall, located far from the city centre, a discontinuity? An invention for the age of cheap fossil fuel?
They certainly waste energy. The typical big box is "thick and fat", says Ali Malkawi, professor of architectural technology at Harvard University and founder of the Harvard Center for Green Buildings and Cities. In contrast, the outdoor "retail village" typically has a smaller ecological footprint. "Thin structures allow for the possibility of natural ventilation and daylighting, and hence can be more energy-efficient," Malkawi says.
Malls first appeared in suburbs in the 1950s, when "reducing energy was not a priority", says Malkawi, and they were only accessible by car. "The more you move shopping away from where people live, the more you increase transportation's impact on the environment," he says. (The transport sector accounts for nearly a quarter of all energy-related CO2 emissions.)
Architect Friedrich Ludewig of the firm Acme takes the idea a step futher. Knowing that "the point to shopping in stores is to offer something physical that is interesting, otherwise we can do it all online", he designed a suburban mall extension in Melbourne around a town square, with a public library at its centre, not an anchor store.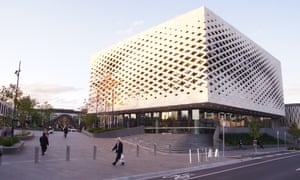 "Customers prefer to be outside and to feel less artificial," Ludewig says of what is, in fact, an outdoor mall. His company has taken steps to create a seamless urban feel. There are guidelines for storefronts, including about colour, to ensure the visual coherence of the public space and avoid screaming yellow storefronts. "When there are lots of people shouting," he said, "you can't hear anyone."
……..The city of Hong Kong solves this issue by going one step further – it weaves malls into the very urban fabric.
The city counts more than 300 shopping centres. Most do not perch on asphalt parking lots, but on subway stations and underneath skyscrapers. Hong Kong's transit provider is also a real estate developer, and has capitalised on the value created by its subway stops: it sandwiches malls between stations and skyscrapers, establishing pedestrian streams that "irrigate" the shopfronts.
Tens of thousands of people often work, live and play in a single megastructure, without ever having to leave. And the mall is deliberately placed on the intersection of all pedestrian flows, between entry points into the structure and the residential, office, and transit functions. These malls are, by design, impossible to miss.
Langham Place, for instance, is a 59-storey complex in Hong Kong that includes retail, a five-star hotel and class-A office space. It is connected to the subway with its own tunnel and pulls in an estimated 100,000 people per day.
……
For Sorkin, that comes with a risk. "While the idea of the shopping mall becoming 'urban' has a certain appeal, the net effect is to turn the city into a shopping mall."
……
Source: https://www.theguardian.com/cities/2017/mar/16/malls-cities-become-one-and-same?CMP=share_btn_fb
Malls are becoming urban with the complexes often on or right next to a transit station to capture that natural flow of pedestrian traffic. The urban design and architecture of the urban mall is becoming that evolved and seamless that moving from a public space like a plaza, station or street into the private space that is the mall would be unnoticeable.
However, there is a catch.
Malls even ones on top of transit stations are still private spaces not public spaces as seen in parks and streets. Private spaces are highly regulated environments compared to their public counterparts so freedom of expression (as you could say) is restricted. Consequently civic and open public spaces are still as crucial to the urban fabric especially if one wants to be "away" from a consumerist environment a mall would otherwise present.
Public verse private space aside having the mall itself urbanise so it blends in with the urban fabric rather than isolating itself as in the past is a welcoming step. A mall that blends to the urban fabric is one more likely to be transit and pedestrian friendly compared to a mall that is inward looking and isolates itself from the world. Remember how I said consumers today have changing tastes and what a different experience? Driving to a mall and searching for a park is something millennials will find alienating compared to their parents. Rocking up to an urban mall by bus, train or bicycle to these consumers gives more of a sense of freedom and connection not only to the urban mall but the environment around.
Ultimate consequence? They are more likely to linger and spend money. Example: if you are like me and enjoy wet lunches or that tipple after a movie an urban mall that is served well by transit means I am not having to worry about driving home. Consequences of that? More likely to stay and spend more money. The consequences of lingering and spending more money? Apart from retailers and hospitality winning, I win through being in a relaxed state (no I do not drink to be plastered off my nut) which means better health (again I don't get plastered off my nut) and better productivity towards the economy.
So whether building a new mall in Drury or retrofitting an existing mall like Manukau's (see: Can or Could Southern Auckland House Another Mall) if malls want to survive into the 21st Century then becoming an urban mall would be a big step in adapting to changing consumer tastes.