Sharing the media narrative and bias on South Auckland
Brandon who is a media student at AUT resides in South Auckland (as I do as well) decided to pen his thoughts on media bias with South Auckland. Yes South Auckland, the place that seems to cop the bulk of negative stories from the media while positive stories will often struggle.
While I have written on South Auckland being the rising jewel in Auckland's Crown the coverage on the South still holds negative bias a bit too often (not enough stories like Papakura High School turning itself around).
Below is an opening extract of Brandon's essay. The rest you can read here: https://storify.com/hyd2391/media-coverage-and-reporting-on-south-auckland
Media coverage and reporting on South Auckland
Observing the bias, binary labels, language, connotations and themes in New Zealand media coverage on South Auckland and its populations; namely Māori and Pasifika.
By Brandon Ulfsby (JusSumWun)
"Oh another robbery in South Auckland, no surprises there "most people would say.
People have become accustomed to the usual narratives of thugs, thieves, abusers and all the other 'low lives' who live in or are from South Auckland causing menace or disturbance to society – notice the language I've used and those powerful words.
Of course the use of such language and the focus on crime stories effectively refers back to the fact that such framing of stories sells and gets the hits.
People like reading negative news and in reference to the holy book that is Galtung and Ruge's news values (1965), such stories fit the idea of what makes news – negativity, personalisation etc.
On the flip side of this all however is that South Auckland people also do good things so we should see that come out of the media… yeah not so much.
When it comes to positive stories news outlets tend to miss out the "south" part when stating where people come from or where something is taking place.
Take for example this New Zealand Herald article on a student who attends Aorere College in Mangere East. Headline reads "Auckland student amazes audience with incredible voice".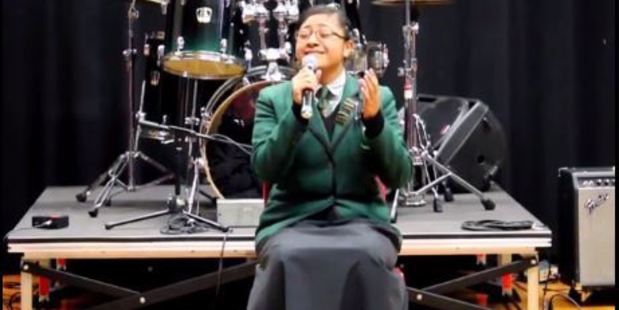 Can't ruin the narrative aye – remember only crimes happen in the Southside.
In fact, here's a look at what you find when you google for news on South Auckland.
To be fair however there was one article on the first page talking about the Open streets event in Manukau on the weekend where bikes, sports and cultural performances were happening – love seeing these positive stories.
When looking at all the stories overall however it becomes extremely clear what the media narrative here is and it's captured by several tweets here.
Seems like when anything bad is happening its always "south Auckland" since when was penrose classed as south Auckland?
When media like to say "South Auckland" in negative articles and "Auckland" in positive articles #NewZealandValues
When something bad happened we were South Auckland, when something good happened we were Manukau City. #GrowingUpinNewZealand
The message here is simply that Bad news = South Auckland, Good news = Auckland or Manukau city.
The binary label when reporting the south side.
Quite an interesting concept that can be understood further if we breakdown and look at who makes up these communities.
……..
Source: https://storify.com/hyd2391/media-coverage-and-reporting-on-south-auckland
I can not recommend Brandon's essay enough. Please do read the full essay over at Storify and ask yourself when you next see a South Auckland story, how is it framed?
Well done Brandon!