Nodes bit vague – time to add some flesh to the bones!
With the dust settled down and the Auckland Plan fully refreshed and operational it is now the time to take a good hard look at it and get the best bang for buck out of our Spatial Plan.
The Auckland Plan 2050 in its Development Strategy decided to includes Nodes with Nodes being four of our large Centres being singled out for extra attention – more so than other Centres in Auckland. The purpose of the Node is to form a sub-regional, regional or inter-regional Core to which surrounding residential and industrial activities can rally around. The City Centre did this for Auckland while Manukau City Centre did this for Southern Auckland and the northern Waikato.
A quick look back at Nodes and Auckland becoming a multi-nodal City:
#AucklandPlan2050: NODES! Or Rather Auckland Becoming a Multi-Nodal City
How Auckland will look dictates how we invest to make it all work?
What will Auckland look like in the future?
The Development Strategy sets out how Auckland will grow and change over the next 30 years to become a place that Aucklanders love and are proud of, a place they want to stay in or return to, and a place that others want to visit, move to or invest in.
This is a revised Development Strategy
This is an update of the first Auckland Plan Development Strategy, which was released in 2012.
The initial Development Strategy set the direction for a quality compact approach to growth.  There have been a few important changes since 2012 which are reflected in this updated Development Strategy.
One of the most important changes has been the release of the Auckland Unitary Plan in 2017, which sets out the planning rules for Auckland and creates adequate capacity for jobs and homes over the next 30 years.
Another important change is around Aucklanders' expectations of housing, transport and public spaces. We also live in a time of rapid technological advancement, which will have many impacts on Auckland's future growth.
Why we need a Development Strategy
Auckland is anticipated to grow significantly over the next 30 years. To make sure that we build on its strengths and hold on to the things that are dear to us during this growth, we need to plan for how and where Auckland will grow.
Around 1.6 million people currently live in Auckland.
Over the next 30 years this number could grow by another 740,000 people to reach 2.4 million. This means Auckland will need many more dwellings – possibly another 320,000, and room for extra jobs – possibly another 270,000.
Growth on this scale is significant, and requires us to work together and ensure we have a clear understanding of where and when investment in planning and infrastructure will be made – this is what the Development Strategy provides.
……
A multi-nodal model
Over the next 30 years, Auckland will move towards a multi-nodal model within the urban footprint.
The city centre will continue to be the focus of Auckland's business, tourism, educational, cultural and civic activities. It will continue to be an important residential centre as well.
But it won't be the only main centre in Auckland.
The areas around Albany, Westgate and Manukau will emerge as nodes which are critical to growth across the region.
They will become significant hubs of a broad range of business and employment activity, civic services and residential options.
These areas, with their large catchments, will accommodate substantial growth in the north, north-west and south and will be interconnected by a range of efficient transport links.
Outside the core urban area, the satellite towns of Warkworth and Pukekohe will act as rural nodes.
They will:
support significant business and residential growth
service their surrounding rural communities
be connected to urban Auckland through state highways and, in the case of Pukekohe, by rail.
​City centre
Auckland's city centre is critical to the success of Auckland and of New Zealand.
It is:
Auckland's primary business area with its mix of commercial, education, employment, cultural and civic activities
linked to the rest of Auckland by an extensive transport system.
Around a quarter of all jobs in Auckland are located in the city centre, and it contributes around 7 per cent to national gross domestic product.
The city centre's residential population has increased substantially over the past decade to reach almost 45,000 residents.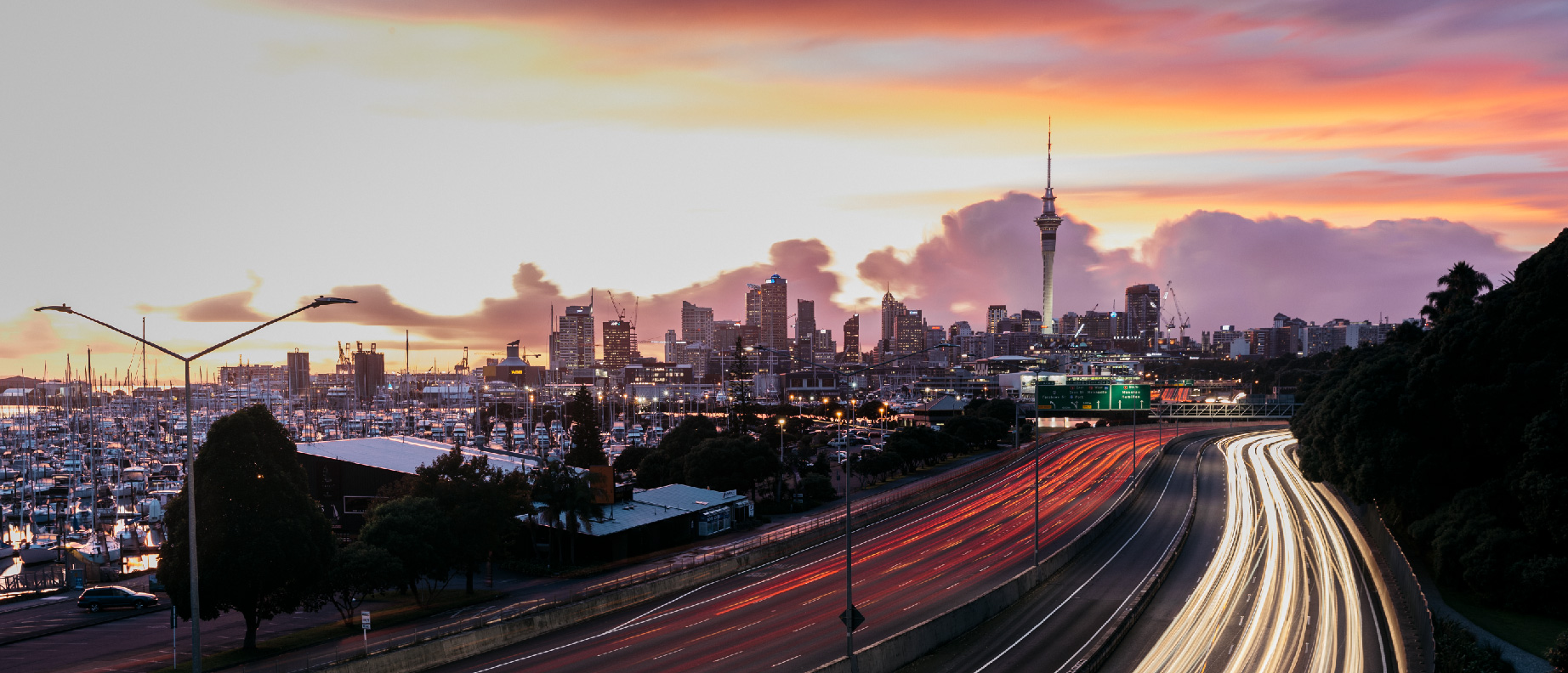 ​Manukau
Manukau is an anchor for southern Auckland.
It has:
a strong civic, academic, business and retail focus
several Auckland-wide attractions
integrated rail and bus stations.
The surrounding industrial area and proximity to Auckland Airport strengthen its future as a sub-regional node.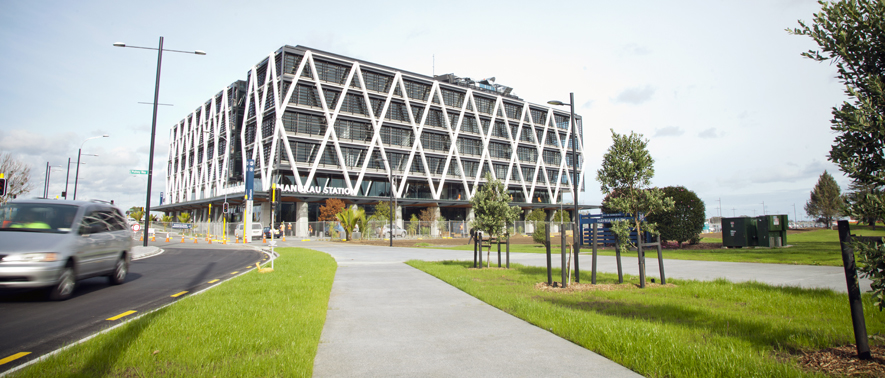 ​Westgate
Westgate is an emerging node of northwest Auckland.
It is the centre for future urban areas, particularly Red Hills and Whenuapai, and new business land at Whenuapai.
Strategically located at the juncture of state highways 16 and 18 on the western ring route, it has road connections to the north, west and south.
Future transport infrastructure will transform Westgate into a major public transport interchange, and will support further mixed use intensification of the centre and development of the surrounding business land.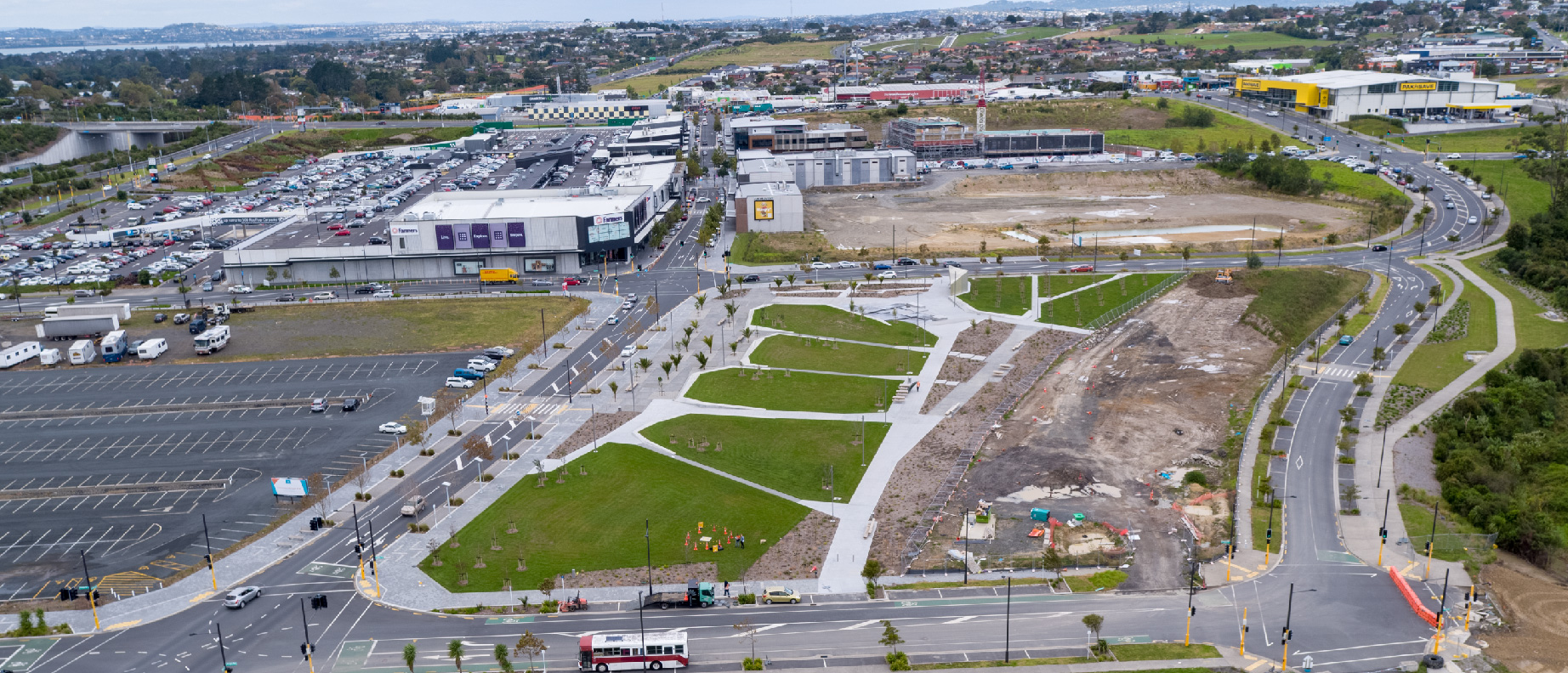 ​Albany
Albany plays a strategic role as the key node for the north. It will help to support the future urban areas of Wainui, Silverdale and Dairy Flat as they develop.
Albany will see significant residential and business growth and intensification.
Motorway access and the Northern busway provide much needed transport connections for the area.
In time, and supported by industrial areas such as Rosedale, Albany will provide a diverse range of employment, housing, education, community and civic facilities.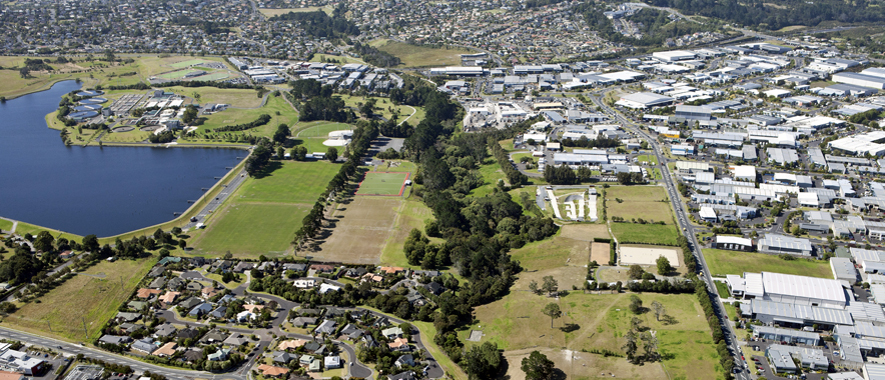 Albany Source: Auckland Council
…..
Source: #AucklandPlan2050: NODES! Or Rather Auckland Becoming a Multi-Nodal City
Note: the language around the Nodes has changed slightly from the draft and operative Plan (the text of the operative Plan will not be live on the websites until August).
This is what we have for the Manukau Node (it does have Tracked Changes so you can see where changes were made to make the Plan more legible):
What will Manukau look like in the future
Manukau is the largest and most established of Auckland's nodes outside of the city centre. Its civic, retail, education and cultural facilities provide for the wider population of the south.
Close proximity to key distribution and transport links, including the southern and north‐eastern motorways, the inland Port at Wiri and the Auckland International Airport, underpin a strong employment base and local economy.
Manukau and the surrounding business area produce about 14 per cent of Auckland's gross
domestic product (Gross domestic product is for the combined local board areas of MāngereŌtāhuhu, Ōtara‐Papatoetoe and Manurewa. It is measured in 2010 prices.'). (Infometrics, 2016).
Manukau is currently undergoing major transformation that fosters and builds on the existing pride, values and culture of its people. The momentum of change and development in this area will drive  demand for a more diverse range of services and activities.
History of The Manukau area
Similar to other key nodes such as Albany, Manukau centre was planned in the 1960s. It was designed as a major administrative and commercial centre that would service southern Auckland, at a time when the area was predominantly rural.
From the outset Manukau received significant public and private investment, which allowed it to develop over time into a large centre. It played an important role of servicing a fast growing population in the southern part of Auckland.
Several government functions and service agencies were shifted into purpose‐built office buildings well before the wider area developed. The Manukau mall followed in 1976 and Rainbow's End theme park opened in 1982.
The last decade has seen Manukau mature in its role as the commercial, cultural and educational hub of node for southern Auckland.
Recent developments in the centre include:
public space improvements
the building of residential apartments
expansion of the shopping centre
completion of a multi‐purpose events centre.
In April 2012 a fully integrated rail station and university campus development was completed and Manukau was connected to the Auckland rail network.
Public space in Manukau 
The Manukau bus interchange, immediately adjacent to the Manukau train station, is a critical component of both Manukau's development and of the Auckland transport network. Being close to public transport will makes it easier for people to live and work in the area.
Future development of Manukau
Significant growth is expected in Manukau over the next 30 years. The residential population of central Manukau is expected to increase from around 6000 500 households at present to over 10,500 and the number of jobs is expected to increase by over 22,500 to around 56,000.around 3000 in the next 30 years.
Manukau is also an investment focus for Panuku Development Auckland (an Auckland council controlled organisation). This includes urban renewal in and around Manukau centre.
DS_32_Manukau Offices 885px
Apartments and office buildings Manukau centre
DS_33_Manukau Offices 885px
Apartments and office buildings Manukau centre
The investment currently being made in Manukau centre, and the momentum of business and employment growth in the wider area, will see Manukau strengthen continue to develop and mature in its role as the node centre of southern Auckland.
[Insert link to Supporting information PDF – Node templates]
Reference
Infometrics (2016). Employment Profile. [accessed 30/11/2017].
Node – Manukau
Manukau is the node for southern Auckland. Its civic, retail, education and cultural facilities provide for the wider population of the south. The area is well located with links to Auckland Airport, the Waikato and the city centre. It is accessible by rail, bus and the state highway network (SH1 and SH20). The recent completion of an integrated rail station and tertiary facility next to the centre, along with the bus interchange will attract further investment.
There is a feasible capacity of approximately 1560 dwellings.
Anticipated household growth 2018‐2048 4,750
Anticipated population growth 2018‐2048 13,920
Anticipated employment growth 2018‐2048 22,620
Average no. jobs accessible within 45min morning peak public transport by 2026 100,000‐150,000
Enabled housing capacity
*does not include centres or mixed use zones 11,250
Feasible development capacity 2017 1,560
Timing / Sequencing 1‐30 Years
…….
Source: Auckland Council
Fleshing out the Node Bones – that is adding some meat to those bones
The Auckland Plan 2050 makes a good start and outlining the Nodes and the basic premises for the Nodes. Sydney goes one better and outlines a very clear strategy with their "Nodes" that has quite a bit of flesh on their own Greater Sydney Plan's bones.
The following is extracts from my evidence to the Unitary Plan Hearings (who thought I would be referring back to these after a while) on Parramatta, Manukau, Auckland, Sydney and two very different Plans:
The rise of Parramatta: 'Once in a lifetime opportunity'[1]
May 23, 2015. Melanie Kembrey and Matt Wade – Sydney Morning Herald
As its colonial heritage testifies, Parramatta has been a big part of Sydney's past. Now there's growing recognition of how vital Parramatta will be to the city's future.
A marker of Parramatta's emerging economic clout came this week when a $2 billion proposal to rejuvenate its commercial hub took a major step forward. Plans for Parramatta Square were first mooted more than two decades ago but demolition work is now approved and there are hopes the project will be completed by 2019. The redevelopment has been billed as "western Sydney's Martin Place" and will be one of Australia's biggest urban renewal projects. At least five civic, residential and commercial towers will rise around a large public domain adding 150,000 square metres of high-end commercial office space that will accommodate more than 18,000 workers, students and residents on any given day.
Parramatta Lord Mayor, Scott Lloyd, said the renewal project was a "once in a lifetime opportunity" and the Premier, Mike Baird, praised the council for taking plans for Parramatta Square forward.
"The NSW Government has identified Parramatta as our second CBD … it will play a very significant role in providing employment and housing opportunities that are essential for Sydney's global competitiveness," he said.
Why is Parramatta so important?
There's a lot riding on Parramatta's transformation. The western Sydney economy has traditionally relied heavily on manufacturing, a sector weakened by global economic forces, and jobs growth in the region has lagged behind other parts of the city recently. The traditional commercial centres of western Sydney, especially Parramatta, need to adapt if they are to attract and keep the high quality knowledge industries where future jobs growth is likely to be strongest.
Baird, who is also the minister for western Sydney, says the future of the city and the state are tied to Parramatta.
"This is a great state, Parramatta is a great city, and the future of both is heavily connected," he said on one of his many stops in western Sydney during this year's state election campaign.
Tim Williams, chief executive of lobby group the Committee for Sydney predicts the city's future will be determined in its west.
"Sydney's structure is challenging. We've got this rather constrained CBD on the far east of our city but about two million people live west of Parramatta," he says. "The next big step in Sydney's transformation is to do Parramatta comprehensively and well … the city needs Parramatta to be an economic powerhouse, a second economic pole."
While Sydney's CBD remains the nation's most valuable economic location, modelling by consultancy PwC shows Sydney's economic centre of gravity –the point around which economic output is evenly balanced – is nine kilometres west of the central business district and drifting north-west. That drift underscores the growing importance of economic clusters inland from the CBD. PwC's analysis of Sydney's local areas showed the Parramatta-Rosehill area generated more than $7.6 billion in 2012-13 and was growing at a faster rate than both the CBD and North Sydney. It's estimated that more than 20 per cent of Australia's Top 500 companies now have a presence in Parramatta's CBD.
PwC's economics director, Rob Tyson, said the growing recognition of Parramatta's importance – signified by urban developments such as Parramatta Square – could be a "tipping point" in realising the huge potential of western Sydney.
"All of our research and economic analysis in the past points to the fact that Parramatta is becoming increasingly important in the whole tapestry of Sydney's economic network," he said.
Baird has declared Parramatta the "infrastructure capital of the world" because of the investment planned in the region. He points to a $26 billion pipeline of spending on road and rail projects in western Sydney – almost one in every two dollars allocated for state transport infrastructure. That includes Australia's biggest road project, WestConnex, and its biggest public transport project, the North-West Rail Link. The pipeline grew last year when the Abbott Government announced a new airport will be built at Badgerys Creek.
Baird argues the sheer volume of infrastructure spending in store for western Sydney has attracted the attention of the world's leading infrastructure players and they see great opportunity in the region over the next decade.
The rest of the west
The push to strengthen Parramatta as Sydney's second commercial hub has been a catalyst for economic change across western Sydney. David Borger, the Western Sydney director of the Sydney Business Chamber, says the rise of Parramatta has provided other regional cities with a road map for their own development. No longer content to wait for organic growth, a range of cities have followed in Parramatta's footsteps and are actively embarking on major urban renewal projects and re-branding campaigns.
"The new model for leadership in western Sydney is that you've got to take risks and you've got to be entrepreneurial for the city because, if you don't, you're going to be left behind," says Borger.
"These are places that cannot sit there and just coast on their natural strengths. They have to actually get out there and be hungry."
Liverpool has an urban rejuvenation plan called "Building Our New City" which includes an "eat street", a revitalised mall and new "gateways" to create a sense of arrival in the city. Mayor Ned Mannoun​ said the decision to build the international airport at Badgerys Creek had been a game changer and it is now positioning itself as the capital of south western Sydney and as the "Airport city". In a city where eight storey buildings have been the norm, construction has now started on the first 30 storey building. Cr Mannoun said that during the next 10 years no other Australian city will gain as much infrastructure as Liverpool.
"We are very strongly positioning ourselves to become Sydney's third major city," Cr Mannoun said.
"We want to be known as the city that builds things and is home to all the related industries that build things – engineering, constructing, consulting, and planning. We want to become the city of urban design."
To the north west of Liverpool, Penrith also has a grand plan. It has embraced the slogan "Penrith is Here" and is pushing itself as the "capital of the New West" on the premise that Sydney's eastern CBD is a global hub and Parramatta its "central city."
Like Liverpool, Penrith plans to revamp its city centre and in the process bring an extra 10,000 jobs and 5,000 dwellings to the area. Penrith Council has shifted its policy position on Badgerys Creek airport and now supports the project in the belief that it is better to be "inside the tent" to gain access to resources.
Mayor Ross Fowler said Penrith residents want a city that is bold.
"Penrith has always had its own separate identity to the rest of western Sydney. We've probably evolved over the last 30 years from a proud country town to now a very proud city," he said.
Western Sydney Leadership Dialogue chairperson Chris Brown said Parramatta was the "older brother" influencing and inspiring the rest of western Sydney,
"Parramatta is the beach head which has given the decision makers in the city a confidence about moving jobs, money and office space to western Sydney and now there is an opportunity for the others, like Liverpool, to come through and say they want a slice of that action as well," Mr Brown said.
"With Parramatta dominating central Sydney, Liverpool dominating the south west and Penrith dominating the outer west, there are nodes around which the government can build."
The transport challenge
A Committee for Sydney report released last month said much more attention should be given to the "east-west spine" of Sydney between the CBD and Parramatta. It called for a much faster and more frequent heavy rail connection on the existing line that connects the CBD and Parramatta so the two economic hubs can be more closely linked.
"The analogy is with the old financial centre of London and the new one created in Docklands at Canary Wharf, which did not succeed until a public transport link was created," the report said.
"This enabled a business person to get from one to the other in less than 15 minutes with services so speedy and frequent that they didn't have to know the timetable."
As well as a high speed rail to link Sydney's dual CBDs, there is a need for improved public transport connections between the various commercial centres in western Sydney.
The government is currently considering which of four light rail routes will be built around Parramatta, with the hope of eventually delivering a light rail network around western Sydney. The four routes are Parramatta to Macquarie Park via Carlingford, Parramatta to Castle Hill via Old Northern Road, Parramatta to Bankstown, and Parramatta to Sydney Olympic Park and Strathfield/Burwood.
While there is no hint of when a decision will be revealed, construction on a route was due to start in this term of government and the different commercial centres are lobbying hard for their causes.
Parramatta Council has proposed a route from Westmead to Epping, which would link centres to the north, east and west of Parramatta CBD, such as the Westmead health precinct, Parramatta Stadium and UWS's Rydalmere and proposed Parramatta Square campuses.
Parramatta Mayor, Cr Scott Lloyd, says it will make Parramatta the new Central station and provide a spine that would allow for future light rail expansions to Macquarie Park, Castle Hill and Olympic Park.
The jobs challenge
Greater Western Sydney is one of Australia's biggest regional economies, with annual output of nearly $100 billion, but job creation in the region has been dwarfed by population. About 200,000 people leave western Sydney each day for work and that daily migration could swell to 400,000 by mid-century unless jobs growth in the region improves. The movement of so many workers to and from western Sydney puts huge pressure on the city's transport networks and is a major drag on the economy.
Parramatta as the second Central Business District (or City Centre) is a major initiative being undertaken by the local authorities in Greater Sydney and the New South Wales State Government. The initiative is set out in the Sydney Plan which is the equivalent of our Auckland Plan (notwithstanding Sydney being more ambitious arguably).
[1] http://www.smh.com.au/nsw/the-rise-of-parramatta-once-in-a-lifetime-opportunity-20150522-gh7eg3.html
……..
Notice the outline for Parramatta in the Greater Sydney Plan sounds very similar for the Manukau node in the Auckland Plan. However, this is where we get those meat on the bones of Sydney's spatial plan (note: it will include evidence commentary from me as I set up the case for the then Independent Hearings Panel back in 2015):
Parramatta as the second Central Business District (or City Centre) is a major initiative being undertaken by the local authorities in Greater Sydney and the New South Wales State Government. The initiative is set out in the Sydney Plan which is the equivalent of our Auckland Plan (notwithstanding Sydney being more ambitious arguably).
The Sydney Plan vs The Auckland Plan and Proposed Auckland Unitary Plan
I am going to copy over extracts of The Sydney Plan[1] relevant to the debate and seeking of the relief of the insertion of the Super Metropolitan Plan into the Proposed Unitary Plan
It is to acknowledge first that while The Auckland Plan is the overarching master document (framework) that inevitability guides the Proposed Auckland Unitary Plan the Auckland Plan is a non-statutory document. Given that, and the fact city evolution is fluid it can be argued that the Auckland Plan is already obsolete to both the City (Auckland's) needs and current development trends. Thus Council should not be opposing any alterations to the Auckland Plan if hierarchical changes come through from the Proposed Auckland Unitary Plan as a result if the changes are backed by solid evidence.
Thus in setting the Proposed Auckland Unitary Plan (which will last 30-years) we as a City need to make sure per the Resource Management Act 1991 the Plan is as enabling as possible while still meeting its obligations under the Act. Thus I argue without the Super Metropolitan Centre concept the Proposed Auckland Unitary Plan – Business Zones is a disabling document as the PAUP does not actually recognise adequately the different geographies of our Metropolitan Centres. Consequently (again) I rebut 10.33 and 10.34 of Matthew Bonis's evidence[2]  against the seeking of the insertion of the Super Metropolitan Centre into the Proposed Auckland Plan.
Below is the introduction to the Sydney Plan. Given that the Auckland Plan is meant to frame the Unitary Plan comparing both to the Sydney Plan and how it will frame Sydney's development would be helpful:

INTRODUCTION
Sydney is an iconic global city and it is growing.
Sydney is currently home to over four million people living in communities as different as Cabramatta, Manly and the Blue Mountains. Each has its own identity but collectively they enrich the life and character of Sydney.
Sydney is a global city, the premier city in Australia and the economic capital of the country. What happens in Sydney is important to the rest of the nation because of its impact on jobs, the economy and our capacity to produce goods and services that are in demand around the world.
Sydney's strong economy, skilled labour force, spectacular natural environment and relaxed lifestyle have made our city the envy of other cities around the world.
A sign of Sydney's prosperity is that it's growing – its economic output and its population. By 2031, Sydney's economic output will almost double to $565 billion1 a year and there will be 689,000 new jobs.2 In the next 20 years, Sydney's population will grow by 1.6 million people, with 900,000 of this population growth occurring in Western Sydney(3).
It's clear that Sydney's population is growing much faster than it did over the last 20 years (see Figure 1). To meet the needs of a bigger population, we need a plan to manage growth – how to accommodate the 664,0004 new homes that we will need, how to provide the conditions for growth in jobs, how to create places that people will enjoy living in and to protect our unique natural environment.
Sydney needs a plan that outlines how to:

make it easier for Sydney's residents to move between their homes, their jobs, the centres where they shop and use local services, and their open spaces;
make a wider variety of housing available to suit the changing make-up of the population – more than one million people will be over the age of 65 years and almost the same number under the age of 15 years by 2031;5
deliver new infrastructure which supports our community as it grows, and strategic infrastructure that also strengthens the economy; and
recognise our highly prized environment – the harbour, the coast, our mountains, parks and open spaces – and how to safeguard these places.

A Plan for Growing Sydney is the Government's plan to achieve these things. It's an action plan focused on bringing all stakeholders together with a common purpose – to develop a competitive economy with world-class services and transport; to deliver greater housing choice to meet our changing needs and lifestyles; to create communities that have a strong sense of wellbeing; and to safeguard our natural environment.Planning where people will live and work across Sydney, and how these places are connected to each other, will influence Sydney's long-term success and the standard of living our communities will enjoy. It is critical not to repeat the mistakes of the past – dispersed housing growth that resulted in a sprawling and poorly connected city, complicated by unique geographic constraints. Planning for Sydney's inevitable population growth has never been more important.
THE PLAN
The Government's vision for Sydney is: a strong global city, a great place to live.
To achieve this vision, the Government has set down goals that Sydney will be:

a competitive economy with world-class services and transport;
a city of housing choice with homes that meet our needs and lifestyles;
a great place to live with communities that are strong, healthy and well connected; and
a sustainable and resilient city that protects the natural environment and has a balanced approach to the use of land and resources.
This Plan sets out actions that will deliver these goals for Sydney. Each goal has a number of priority areas (directions which provide a focus for the actions). The actions include:

accelerating urban renewal across Sydney at train stations, providing homes closer to jobs;
growing a more internationally competitive Sydney CBD;
growing Greater Parramatta as Sydney's second CBD;
transforming the productivity of Western Sydney through growth and investment;
enhancing capacity at Sydney's Gateways – Port Botany, Sydney Airport and Badgerys Creek Airport;
delivering the infrastructure that is needed;
promoting Sydney's arts and culture, tourism and entertainment industries;
protecting our natural environment; and
managing long-term growth.

The Plan includes a new approach to delivery with the establishment of the Greater Sydney Commission – a dedicated new body with responsibility to drive delivery of the Plan.
A Plan for Growing Sydney applies to the Sydney Metropolitan Area – 41 Local Government Areas from Pittwater in the north to Wollondilly in the south and Blue Mountains in the west
As one can gather from the Sydney Plan Introduction above, Sydney is facing the same pressures as Auckland as well as the same opportunities into 2041[3]. However, the key difference between Auckland and Sydney (who will undertake their own spatial planning (laying down the zones)) is Sydney recognises its different geographies with its Centres (like Parramatta) where Auckland treats its ten Metropolitan Centres (in which also have different geographies) the same according to 10.33 of Mr Bonis's evidence on behalf of Auckland:
33 The relief is opposed; the notified hierarchy follows the approach established in the Auckland Plan. The notified hierarchy seeks to create a classification approach to centre management, where centres of equal form and function can be grouped together in terms of both land use expectations and associated public funding and transport initiatives. Such an approach is consistent with the Council's duty in terms of the integrated management of physical resources.
The ultimate point being in this evidence document to the Independent Unitary Plan Hearings Panel that eight[4] of our Metropolitan Centres have similar form and function while two do not thus require separate hierarchal. Those two being Albany and Manukau City Centre and them both being elevated into the new Super Metropolitan Centre tier as proposed in my submission.
Parramatta as Sydney's Second City Centre/Central Business District
Again while Sydney is being very bold in pushing Parramatta to the same City Centre status as Sydney's main City Centre in the east my own submission (1606) is not seeking the same for Manukau City Centre in Auckland.
However, what is being attempted with Parramatta through the Sydney Plan can be translated into Manukau City Centre (at the minimum with Albany also being elevated preferable) being pushed into a higher hierarchy (the Super Metropolitan Centre) given that the geographies of Sydney and Auckland, Parramatta and Manukau are similar.
Below is what the Sydney Plan has outlined for Parramatta in becoming the second Central Business District of Sydney complementing the main Central Business District:
SYDNEY'S COMPETITIVE ECONOMY

Our plan for a competitive economy with world-class services and transport
Sydney is Australia's financial and economic capital.
Forty-five per cent of the top 500 Australian companies are based in NSW (1), and a major proportion of these are based in Sydney. This puts Sydney in the same league as other international cities − including cities in Asia − that compete as a destination for global capital.
Sydney drives around 70 per cent of New South Wales' total economic output2 and over one-fifth of the nation's Gross Domestic Product (GDP)(3). It ranks above Singapore and Hong Kong in terms of economic output (4).
Within a decade, our neighbours in Asia will account for around half of our global economic output, opening up opportunities for our industries and business. Efficient infrastructure, strong centres that attract investment, competitive international gateways, access to a deep pool of skilled labour, and a liveable city with high standards of living will allow Sydney to take advantage of this growth in Asia. These are the preconditions for innovation and increased productivity.
Capitalising on these opportunities will require good planning. Land use planning impacts on a city's economic performance and is a factor influencing firms' locational decisions on how easily they can move goods and services to market and access labour. Land use planning can help industries foster innovation and sustain economies of scale. It can also affect how efficiently infrastructure can be delivered.
A Plan for Growing Sydney is a plan to sustain strong growth for Sydney, improve its productivity and competitiveness, and foster higher living standards.
The Plan makes the intensive development of strategic locations across Sydney a priority, including the Sydney CBD, the Global Economic Corridor, Greater Parramatta and Sydney's Gateways – the port and airports. Growth in these locations will sustain and expand the economy and support more jobs closer to where people live.

Direction 1.2: Grow Greater Parramatta – Sydney's second CBD

Greater Parramatta is Sydney's western CBD. Located close to the demographic heart of the Sydney Metropolitan Area, its scale and mix of commercial, health and education facilities make it a centre – a CBD – of metropolitan significance.
The 2011 Census revealed that Greater Parramatta is diversifying with growth in knowledge industries and increasing numbers of more highly qualified people working in Parramatta. Employees with a bachelor or higher degree increased by almost 26 per cent11 between the last two censuses.
Greater Parramatta will continue to grow in significance to Sydney. This will require a critical mass of investment and greater diversity of activities in Greater Parramatta. As Greater Parramatta attracts more jobs there will be further incentive for other firms to move to the area.
The new University of Western Sydney campus tower, situated in the core of Parramatta's CBD is forecast to be home to over 10,000 students in 2017(12). This will increase the diversity of activities and enhance the social and economic prosperity of Parramatta.
The core elements for growing Greater Parramatta include:

integrating the precincts within Greater Parramatta and connecting the centre to the wider community and other centres through the proposed Parramatta Light Rail initiative;
continuing to grow the commercial core as the central focus of business activity; and
encouraging growth across a range of employment types.
To fulfil its role, Parramatta also needs expanded arts, culture and entertainment activities to increase its appeal as a dynamic and diverse place to work, live and play. Development of a Parramatta arts and cultural precinct is addressed in Action 3.4.2 in Goal 3.
ACTION 1.2.1: Grow Parramatta as Sydney's second CBD by connecting and integrating Parramatta CBD, Westmead, Parramatta North, Rydalmere and Camellia
Greater Parramatta has the potential to reach 100,000 jobs over the next 20 years (13). The Government will work with Parramatta City Council to build an expanded Greater Parramatta by incorporating Westmead, Parramatta North, Rydalmere and Camellia.
The Government will work with Parramatta City Council to:

grow Greater Parramatta by connecting and integrating the precincts which provide jobs, goods and services including Parramatta CBD, Westmead, Rydalmere, Parramatta North and Camellia with the existing commercial core.
ACTION 1.2.2: Grow the specialised health and education precincts at Westmead and Rydalmere
Westmead Health Precinct is Sydney's most significant concentration of biotechnology, pharmaceutical and medical device companies. These companies are well located to access Western Sydney's growing population and labour force. Investment in the precinct will support jobs growth and recognise the important health contribution the precinct makes to Sydney.
Opportunities to grow knowledge jobs by building on the strengths of the University of Western Sydney at Rydalmere will make a valuable contribution to Greater Parramatta's diversity and strengths.

The Government will:

expand and build on the existing strengths of the Westmead Health Precinct by improving public spaces and renewing the precinct;
encourage higher education facilities to develop Rydalmere as Western Sydney's premier university precinct;
facilitate improved public transport, cycling and walking connections between Westmead and Rydalmere through the Parramatta CBD,
investigate improved connections to Macquarie Park, and investigate options to enhance a Parramatta City Ring Road; and
grow knowledge jobs in Western Sydney and encourage innovation by investigating the potential for a new business park.

Initial investigations for the business park will focus on the NSW Government's land near the University of Western Sydney at Rydalmere and the proposed Parramatta Light Rail.
ACTION 1.2.3: Renew Parramatta North to create a vibrant mixed-use precinct
UrbanGrowth NSW has been directed by the Government to transform and revitalise a precinct which is home to some of the State's and indeed Australia's most-important heritage locations and assets, including Australia's first farm and water mill, Parramatta Female Factory and the Old King's School. The 146 hectare parcel of Government-owned land on the banks of the Parramatta River – the Parramatta North Heritage Precinct – will be a focus for urban renewal.
UrbanGrowth NSW will:

deliver around 6,000 new homes and 2,000 new jobs as part of the transformation of the precinct;
examine opportunities to adaptively re-use the heritage buildings for potential community, cultural and commercial uses; and
upgrade parkland and open space, and restore the Parramatta riverbank and create a river walk towards Lake Parramatta.
……………..
Although Sydney is four times bigger in terms of population than Auckland, the geographies of Sydney and Parramatta are similar to that of Auckland and Manukau.
The accompanying table illustrates the similarities of the geographies of Manukau and Parramatta:
Parramatta
Manukau
Education
University of Western Sydney: 10,000 students by 2017
MIT and AUT South campuses: 1800 FTE[5]as of 2015. 5,000 FTE by 2020[6]
Arts, Culture and Entertainment
Sydney Plan states Parramatta to expand arts, cultural and entertainment offerings[7]
A more sophisticated entertainment and retail offer[8]. Te Papa North campus proposed
Nearby Industrial Complexes/Areas
Western Sydney
Wiri, Airport, East Tamaki, Highbrook, Takanini, Drury South
Immediate population catchment
Western Sydney including 'Greater Parramatta'
Southern Auckland [9]
Knowledge Industries:
Education, Health
Health and Science, Food and Nutrition, Technology and Enterprise, and Human and Social Development
Current Transport Infrastructure
Heavy Rail, Motorways, Ferry, Bus Transit Ways, Arterial Roads
Heavy Rail, buses, Motorways, Arterial Roads
Future Transport Infrastructure Opportunities
Light Rail, improved cycling and walking connections
Manukau Transport Interchange (delayed), walking and cycling connections especially to Manukau Station
Place in relative City
Second City Centre complementing main Sydney City Centre
Metropolitan Centre under Auckland Plan and Proposed Auckland Unitary Plan.

Proposed for new Super Metropolitan Centre zone concept
[1] http://www.strategy.planning.nsw.gov.au/sydney/
[2] Evidence Bonis, Pages. 49-50
[3] Auckland Plan
[4] Westgate, Henderson, New Lynn, Newmarket, Takapuna, Botany, Sylvia Park and Papakura
[5]  Full Time Equivalent (Student)
[6] https://voakl.net/2015/07/21/south-auckland-the-cotinued-rising-jewel-in-aucklands-crown-betterauckland/
[7] See 44.f of this document
[8] See 27.c.III of this document
[9] Southern Auckland defined from Otahuhu at Portage Road south to the border with the Waikato
—ends—
The provisions for Parramatta in the Greater Sydney Plan are pretty extensive for a regional spatial plan (like the Auckland Plan) – in other words some decent flesh on those bones! With Manukau being a Transform class urban regeneration project under Panuku Development Auckland a specific Framework Plan was written that outlines Manukau's 30 year future. Understandably if I look at the Parramatta provisions in the Greater Sydney Plan and translate it back to Auckland and Manukau there would be overlaps between the Framework Plan and Spatial Plan itself. This is not a bad thing at all but in fact rather excellent on Sydney's part with this equivalent overlap of Plans. No doubt Parramatta will get its own Area Plan or Framework Plan specifically for itself but the level of detail on Parramatta in Sydney's spatial is where it counts most.
The Auckland Plan 2050 lacks clear directives and actions for the Manukau Node compared to the Greater Sydney Plan with Parramatta and this is where the Auckland Plan is rather exposed as being a tad skinny or thin on the grounds. It is good to have some numbers and aspirations for Manukau in the Auckland Plan but the lack of clear decisvie actions as seen in the Greater Sydney Plan and again this is where some flesh needs to be put on the Auckland Plan's bones.
The Manukau Framework Plan is a large A3 document spelling out the more specifics for Manukau stage by stage however, the entire Framework Plan can be summarised up (given it also has action directives) and added to the Auckland Plan allowing a marry up of the two documents. In other words some Integrated Planning, Integrated Plans (notice a theme here) and the continued pulling down of silo walls.
So let's do this and get some clear actions and some flesh on those Auckland Plan bones when it comes to the Nodes!