12-5 vote against revoking a Special Housing Area in Mangere today
It is with sadness today that again I have to inform readers that AGAIN the Governing Body of Auckland Council has AGAIN failed South Auckland today.
As earlier mentioned today a Notice of Motion to Revoke a Previous Resolution was put forward to revoke a Special Housing Area in contested as well as culturally sensitive land in Mangere to the Governing Body.
After impassioned speeches and even a stirring haka which even brought tears to my eyes watching the Live Stream at the time the Governing Body defeated the motion 12-5 to revoke the Special Housing Area. This is how the votes fell: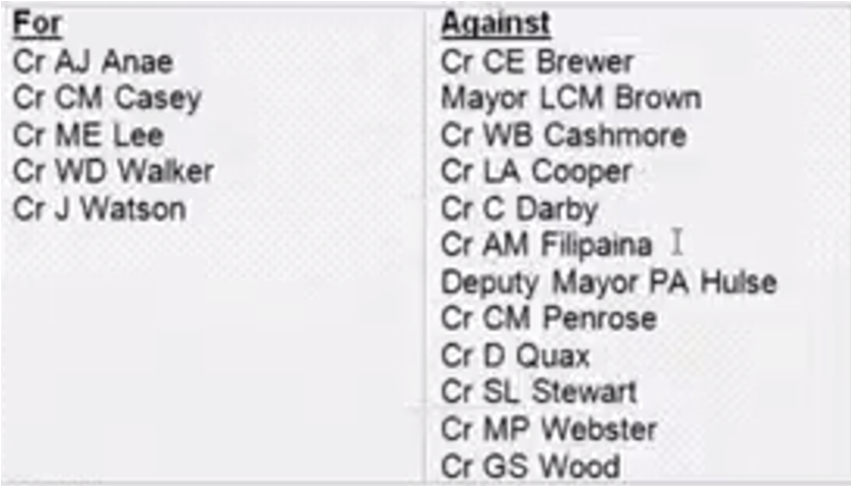 I notice Manukau Ward Councillor Filipaina who's Ward (as well as Anae's but he voted in favour of the Motion) the contested Special Housing Area sits in voted against the motion deeply upsetting the communities he is meant to represent in his Ward.
I am deeply upset and annoyed that this Motion had failed as there was no reason for the Motion to fail. That area is contested land and culturally sensitive land that is being having a Waitangi Tribunal opinion sought after. That alone should be if we are to honour the Principles of the Treaty of Waitangi to suspend any Special Housing Area categorisation and subsequent development until the issue is settled full and final.
I heard from the Live Stream that the housing due to be built by Fletchers on that contested SHA is to attract a minimum price tag of $800,000 which is nowhere near affordable for Auckland let alone the Manukau Ward which is the socio-economically poorest area of Auckland (see Southern Initiative fact sheet at the bottom of this post). so in short the housing to be built is not going to solve housing shortages and over crowding for those in the Manukau Ward AT ALL.
To do that this is where State Intervention applies. That is to rebuild all the State Housing dwellings in the Manukau Ward as well as building NEW state housing in the Ward (and other areas of Southern Auckland) with a rent to by scheme offered to tenants so that in due time at an affordable rate they can own that home FREEHOLD!
Council could also do this if it is game through the new Development Auckland CCO as well.
This is now an election #Auckland2016 and I will not be the only one making it a critical issue of South Auckland! Again I am deeply upset and annoyed that the Governing Body failed in its duty of care today given that a new batch of SHA's have been announced including in Manukau which would have compensated out the loss of housing supply at the Mangere SHA today.
SHAME ON YOU GOVERNING BODY!
Southern Initiative Fact Sheet