Auckland's First Electric Train has Arrived
I caught this on Twitter last night while at the launch of (Deputy Mayor) Penny's Hulse's campaign launch in Henderson last night
Photo Credit: Port of Auckland
Hi @mayorlenbrown, your new train set has arrived at your port 😉 @AklTransport pic.twitter.com/cEjV9J5JpV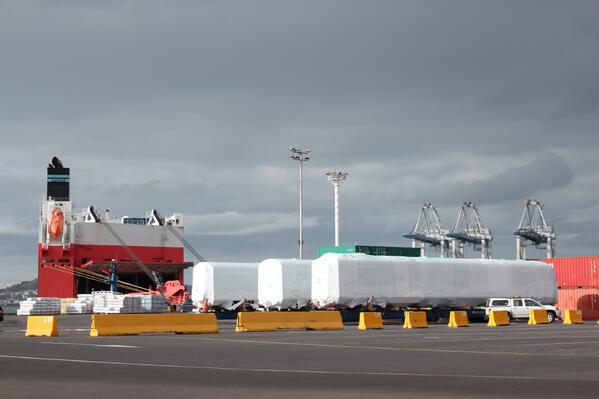 That is the two motor units and the middle "trailer" unit that will make up our first EMU commuter/metro train.
The consist will head down to the new Wiri Depot for extensive testing before it will come into service next year. Exciting times ahead.
Mayor Len Brown was also at Penny Hulse's campaign launch last night and I was able to deliver him the good news of the EMU arrival after seeming it on Twitter (thank you POAL for the Tweet and photo).
I can safely say there was excitement all round after the announcement.
Talking Auckland will be looking back at the journey of electrification and will produce a series of it very soon.
But for now Auckland takes one step closer towards the 21st Century with its transport system