The Talking Auckland Summer Series
The Talking Auckland 2013/2014 Summer Series, a collection of photos, quips, and light stories from around Auckland over the Christmas–New Year run. Normal Talking Auckland commentary will resume from 13th January, 2014.
Note: Summer Series Post 4.2 will be up early next week once I trek out to get the rest of the photos 🙂 
Summer Series Post #5
A Look Back at Fort Street
This slideshow requires JavaScript.
And a comparison of Fort Street old and new: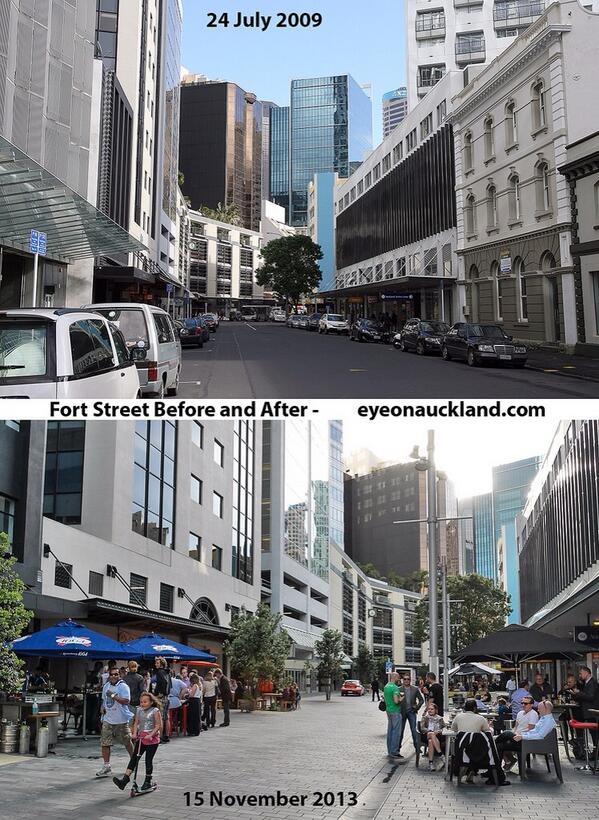 Credit and Reference to Eye-on-Auckland /
Source: pic.twitter.com/HeW3T4P1Ns
Website:  eyeonauckland.com
A big push to get these shared spaces rolled out across the CBD, Wynyard Quarter, Manukau (as post 4.2 will illustrate when I get it up) and many other centres in Auckland. And are these spaces successful? Yes to the point a bit too successful with some needing to be full pedestrian malls (Elliot Street).
Original Fort Street Transformation post: https://voakl.net/2013/11/21/fort-street-transformation/
2014 is not that far away folks – have you made your New Years Resolutions yet? I have. More in 2014