Sydney's Third City continues to be live Urban Geography experiment
A debate on Sydney's second and third cities has popped up again as Sydney's west continues its phenomenal population growth. That growth is putting pressure on road and rail links back towards central Sydney leaving Councils and the New South Wales State Governments scrambling on what to do about it.
From The Conversation:
The future of Sydney: a tale of three cities?
Rob Roggema, University of Technology Sydney and Peter Bishop, UCL
Sydney's future is under constant scrutiny. Planners, politicians, landowners and developers constantly discuss and decide how and where growth should take place – and how that growth should best be managed.
Currently, a spurt of new neighbourhoods are being built toward Sydney's west. These mushrooming developments have become something of a self-fulfilling prophecy: each new development spurs more growth in its wake.
With a new airport planned for the same area, the Greater Sydney Commission defines this area as a "third city" in its regional strategy.
Sydney's "first city" is the Harbour City – Sydney's current CBD and surrounds. The "second city" is the River City, with Parramatta at its heart. The proposed "third city" would be the Western Sydney Parkland City.
The Greater Sydney Commission has put forward an ambitious strategy to transform the Sydney metropolitan area. But is it really the best way to go, compared with international best practice?
Does Sydney need a 'third city'?
In fact, the necessity of this third city at a larger scale is not proven. It is based on the presumption that Sydney's growth will continue in the same direction it has taken over the past few decades – and will therefore need a third city to accommodate it.
An alternative strategy is to focus on making Parramatta a successful central hub in the region (before even thinking about a third city), and providing housing for the growing population through densification of low-density areas, close to rapid transport options.
Only then might we be able to create a city that delivers beyond mediocre urbanism. Predicted growth to 8 million people will require a fundamental quality shift if the Sydney metropolitan area is to be a liveable, healthy, economically successful and resilient global city.
As it is, Sydney is facing serious problems with its housing stock and affordability.
While more Sydneysiders are living in more expensive, larger and more energy-intensive housing, the population has become overly reliant on cars as the primary mode of transport to take them to jobs far away from their homes.
The toll for both individuals and society is high. People need to pay for transport, energy and mortgages. And the frequency of social problems such as diabetes, obesity and violence are higher in western Sydney than elsewhere.
………
Parramatta as a central city
To make Parramatta a central city, as per the Greater Sydney Commission's vision, it has to become the real central transport hub of the entire metropolitan region.
Fast rail connections with the old centre (12 minutes) and the new airport (12 minutes), and high-speed connections with Wollongong and Newcastle (less than 30 minutes), could make Parramatta the heart of the region.
Keeping the third city area subsequently free of residential development creates a Green Heart, surrounded by Liverpool, Campbelltown, Penrith and Parramatta.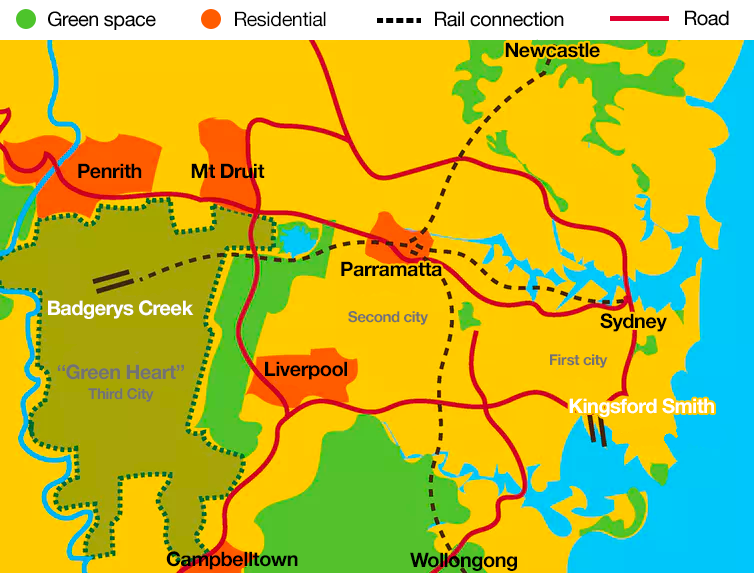 Increasing the density of these places not only backs high-speed rail and vibrancy to the well-designed streets and squares, but also gives people easy access to abundant green space.
One step at a time
If Sydney is to embark on creating a "third city" in the west, first we need to get the second city right.
If Parramatta is to be the central hub, we should focus on making this happen properly. That means getting fast, reliable transport to meet the population density of the second city, with amenities and jobs where they belong – close to where people live.
An even better strategic choice to make now would be, instead of sacrificing the open landscape around the new airport, to extend the Western Sydney Parklands all the way up to the Blue Mountains as a Green Heart.

That way Sydney will become a more liveable, global city than ever.
Rob Roggema, Professor of Sustainable Urban Environments, University of Technology Sydney and Peter Bishop, Professor in Urban Design, UCL
This article was originally published on The Conversation. Read the full original article.
………
Source: 
I have two questions:
Should Sydney focus on its Two Cities first before this third?
Can Auckland learn from this as it runs two de-facto cities – Auckland and Manukau
These two questions would make an excellent Urban Geography paper to write on.
Reference Links:
New West Sydney Aerotropolis Gives Rare Opportunity to Design New City
Urban Geography: Western Sydney to Get New City. Will/Does Auckland get a New City too?
Could Sydney Offer a Lesson on Light Rail for the Southern Airport Line?
Parramatta Evolving to Become Sydney's Second CBD. Hint to Auckland Council on Manukau City Centre